Automotive technology is increasingly evolving due to people's high demand for automated driving, connected cars, etc. Among these applications, demand for automotive cameras has increased remarkably in recent years. The use of automotive cameras is not limited to dashboard cameras but is expanding to various applications, including surveillance systems essential for automated driving. Yamaichi Electronics' connectors connect such automotive cameras to automobiles.
In this interview, we asked Mr. Ito of CN Engineering Department I, who has been with the company for 11 years and is responsible for the design and development of automotive camera module connectors, about the appeal of connector development that supports high-speed, clear camera communications.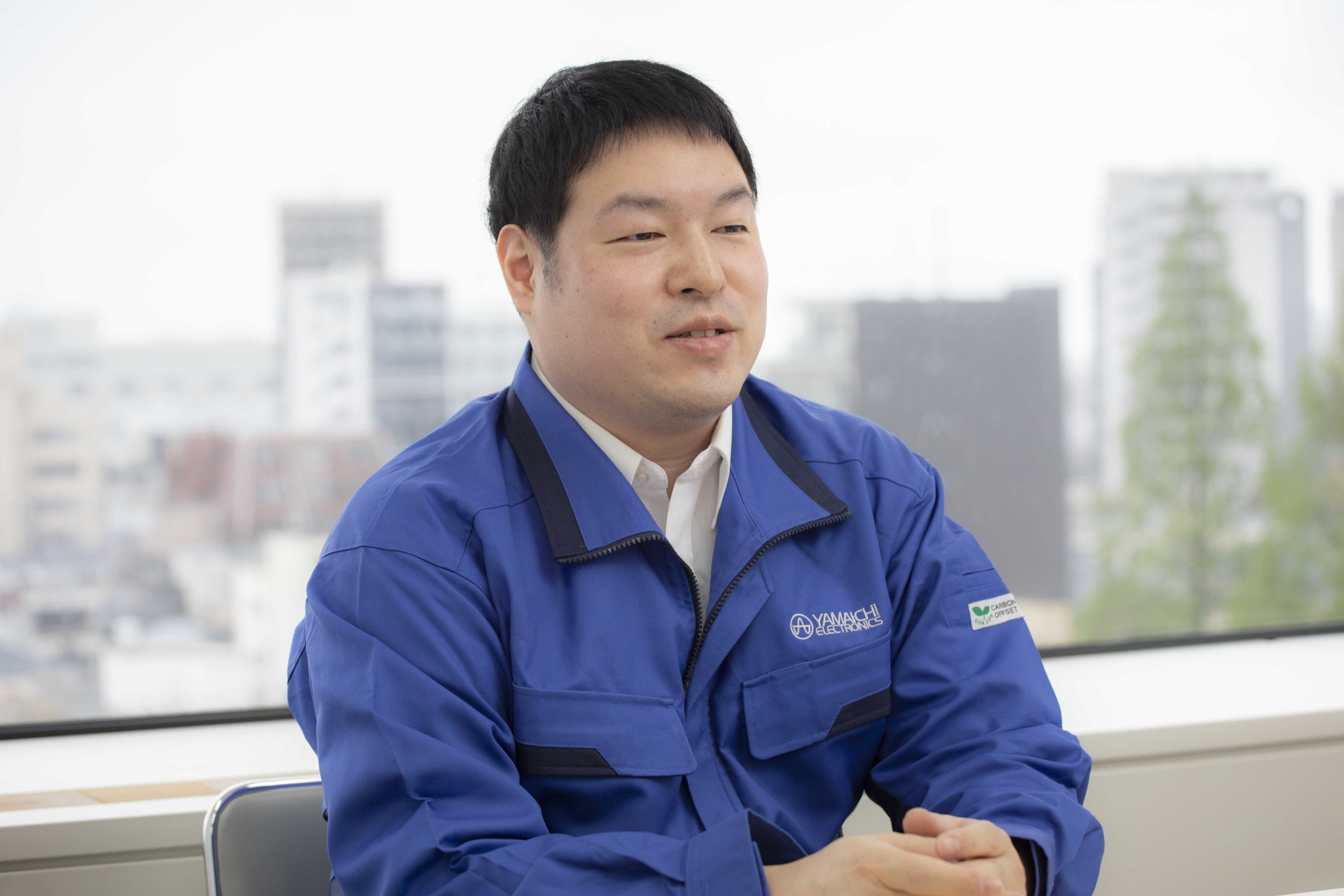 Yamaichi Electronics' connectors connect automotive cameras to automobiles
– Please tell us about your current work.
Ito: I am in charge of designing dedicated automotive connectors, including automotive camera module connectors and automotive interface connectors. We customize existing products to meet customer needs and develop new products.
-What kind of product is an automotive camera module connector?
Ito: An automotive camera module connector is an important connector component that connects an automotive camera to an automobile. When you think of an automotive camera, the one that immediately comes to mind may be a dashboard camera. An automotive camera is also used as a rearview camera for an automobile to show the rear side and as a side-view mirror camera.
The driver monitoring system (DMS) has attracted attention in the past few years due to the spread of automated driving and accident prevention. The DMS monitors the driver's condition, including their physical condition and attention, using an automotive camera. The DMS requires a higher-performance camera to detect the driver's changes accurately, and its performance requirements for connectors are becoming stricter.
– It means the connector performance greatly determines the camera's performance.
Ito: Yes. Even if the camera performance is good, if the transmission speed (the speed at which signals are sent) of the connector is low, the camera will not be able to demonstrate its true performance. To enhance the reliability of images, we design and develop connectors in close consultation with automotive camera manufacturers.
In relentless pursuit of both high-speed and miniaturization
– What is the most difficult part of connector design and development?
Ito: As automobiles become more sophisticated, the number of automotive devices is increasing. However, space is limited, and connector miniaturization is required as automotive cameras continue to get smaller.
The high-speed performance and miniaturization of a connector are difficult elements to reconcile. The contacts through which the signal passes must be made larger to increase the communication speed performance of the connector, and inevitably, the connector size also increases.
On the other hand, if one tries to miniaturize a connector, the high-speed performance cannot be achieved due to mechanical restrictions. Striking a balance between this high-speed performance and miniaturization is a difficult part of the development process.
– What are some of your innovations in developing your products?
Ito: In connector development, Yamaichi Electronics focuses on high-speed transmission. We repeatedly simulate transmission characteristics while making adjustments to flatten the impedance. By doing so, we are pursuing how far we can downsize and speed up the process to meet the required specifications and applications.
* Impedance: A quantity that expresses the difficulty of a current flow. If you want to increase the connector's transmission speed, the impedance difference between the output and input sides must be reduced.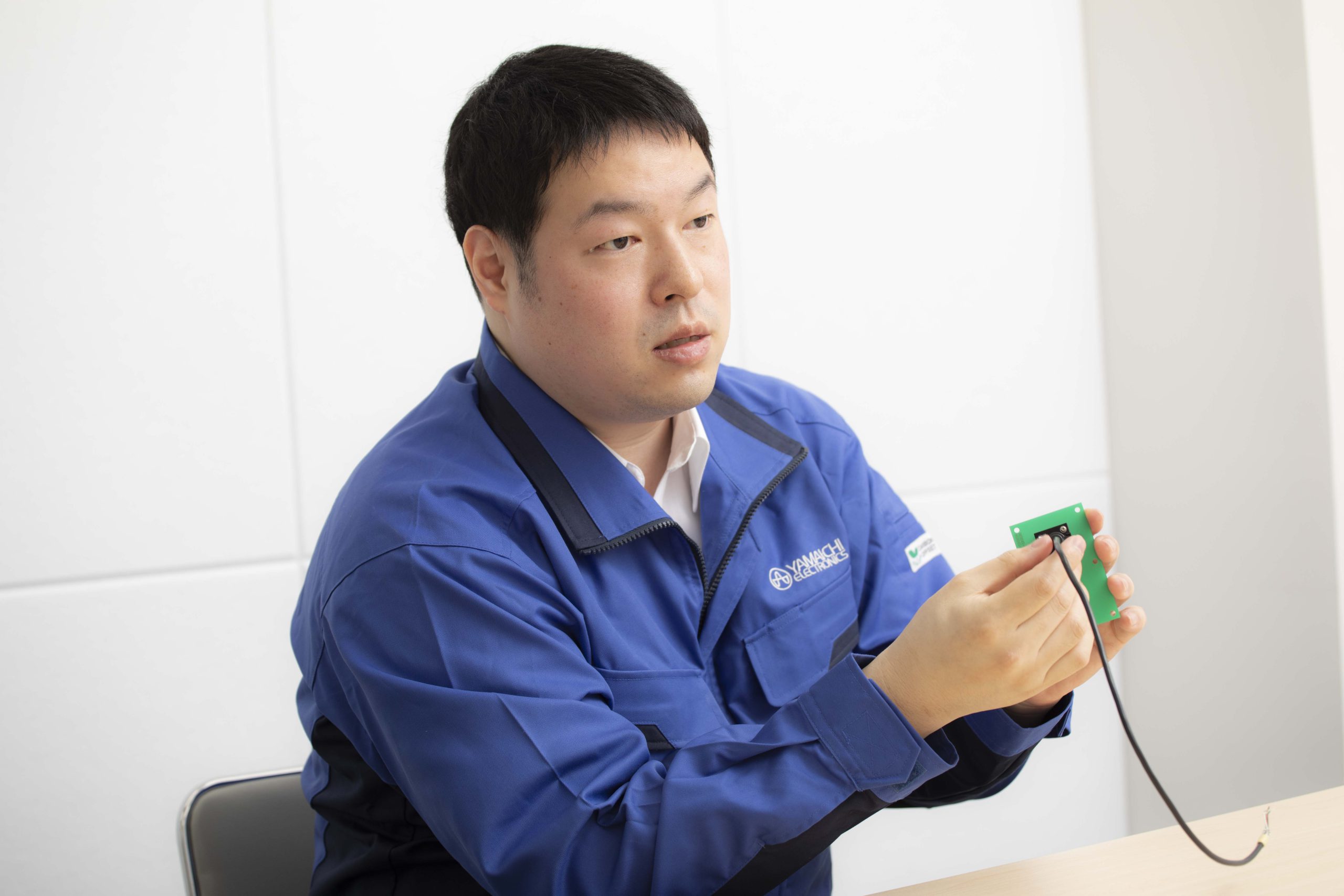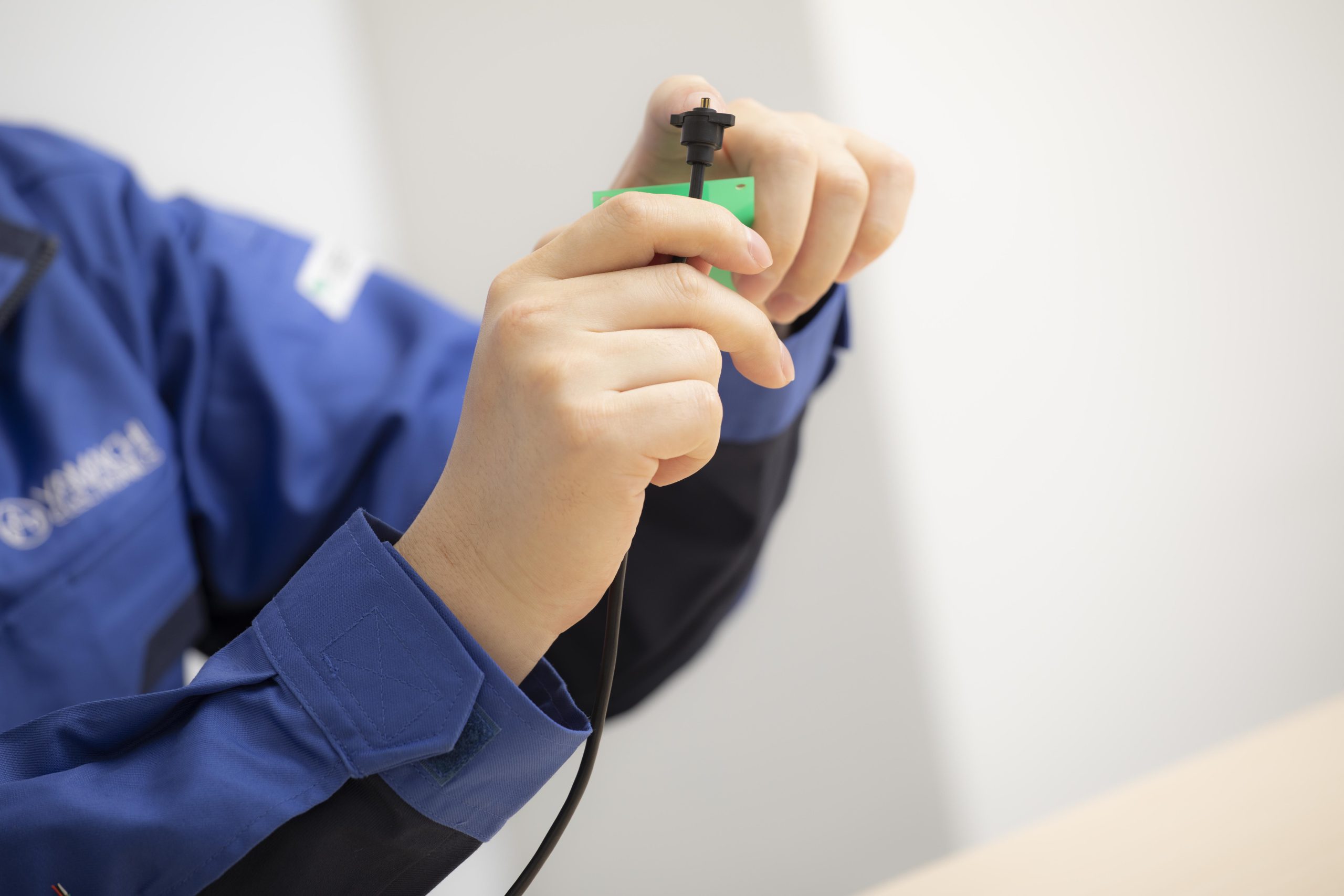 Effort from scratch! Adopted by EV automakers
-What was your major field of study when you were a student?
Ito: I majored in optical and imaging engineering at university, specializing in image processing. I had never drawn a 3D model, let alone a drawing, so mechanical design was an unknown field for me. However, I chose Yamaichi Electronics because I wanted to do "monozukuri" (manufacturing), where my ideas take shape into products.
– It was an effort from scratch. How did you overcome it?
Ito: When I joined the company and got involved in mechanical design, I was at a loss at first because I didn't know what I was doing. However, the senior staff in the same section carefully taught me what I didn't understand. In the first year, my seniors entrusted me with evaluation testing and drawing changes for the products they were in charge of, and I gradually became accustomed to the work. By the third year, I was able to grow to a level where I could be in charge of products on my own with the support of others.
Now I make 3D models of products I have designed from scratch, perform machine simulations, and teach junior staff.
– What was the first product you were involved in developing?
Ito: The first product I worked on was a SIM card connector for car navigation systems. It is an important component mounted on the front panel of each car and has been adopted by automakers. The product development was carried out while sharing information closely with Japanese staff at overseas branches. Despite our difficulties, we managed to commercialize the product.
Connector design is quite different from the field I studied as a student. However, my experience as a student was useful in examining evaluation methods and reflecting them in the design, as I used to work on research while repeatedly drafting experimental reports.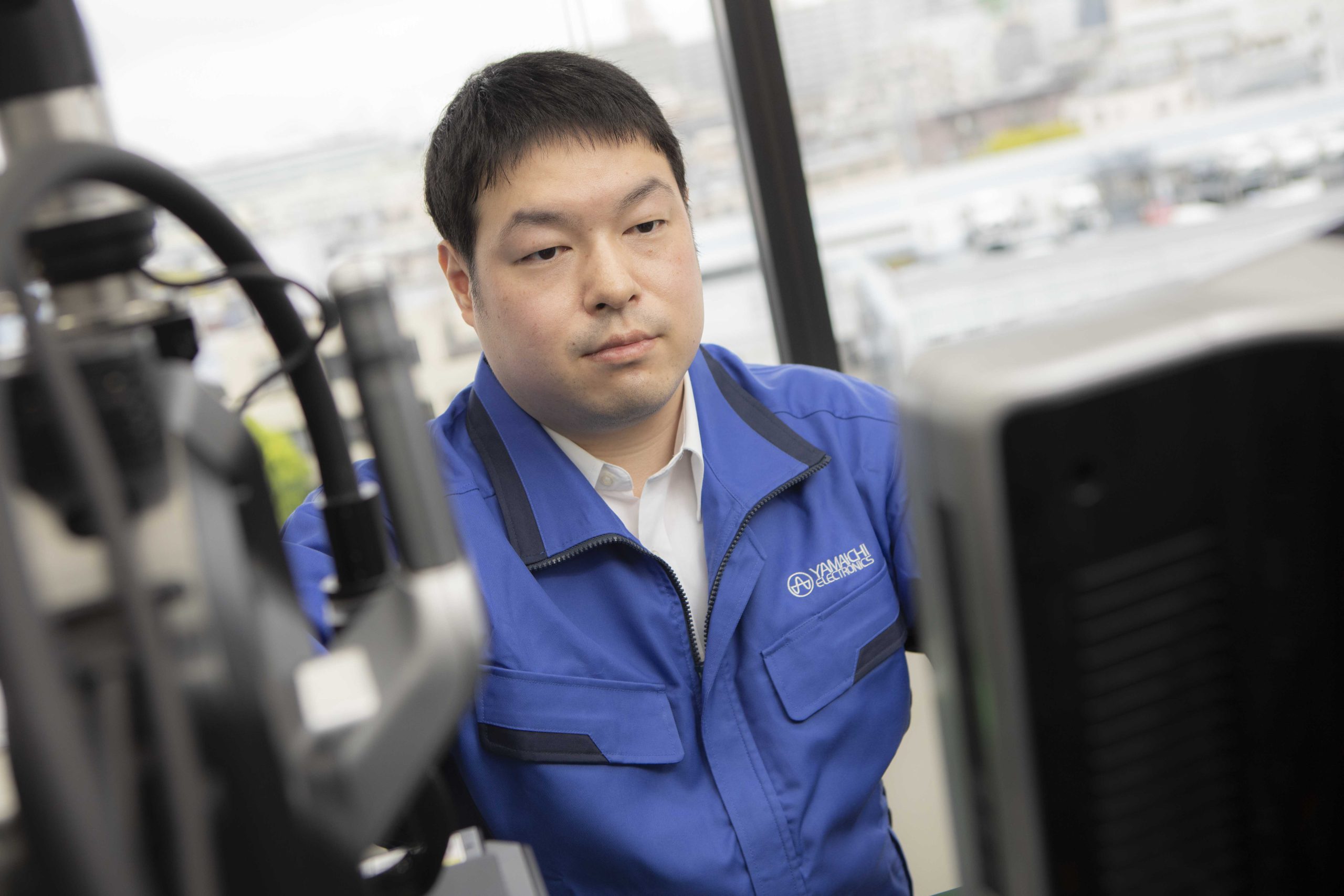 The real thrill of driving a car in town equipped with the connectors you developed
– From your point of view, what attracts you to connector development?
Ito: The best part of connector design and development is when you receive the product you conceived and designed, performing as expected. The market for automotive cameras, which I am currently in charge of, is expanding rapidly due to the spread of automated driving, the IoT, and 5G. It is an area where various manufacturers, not just automakers, focus their development efforts. I look forward to seeing automobiles equipped with the connectors I developed driving around town.
– Please tell us about your own goals for the future.
Ito: Nowadays, the latest pieces of equipment are being introduced one after another at development sites. For example, we use 3D printers to produce precise prototype parts and X-ray equipment to examine the structure of products and analyze the causes of defects. At Yamaichi Electronics, we have an environment that allows us to take on new challenges.
These days, my goal is to be able to use the latest equipment that has been introduced, and I continue studying every day. I want to continue taking on new challenges to expand my skills and apply them to my design work. Another goal is to pass on the skills and experience I have developed to my younger colleagues.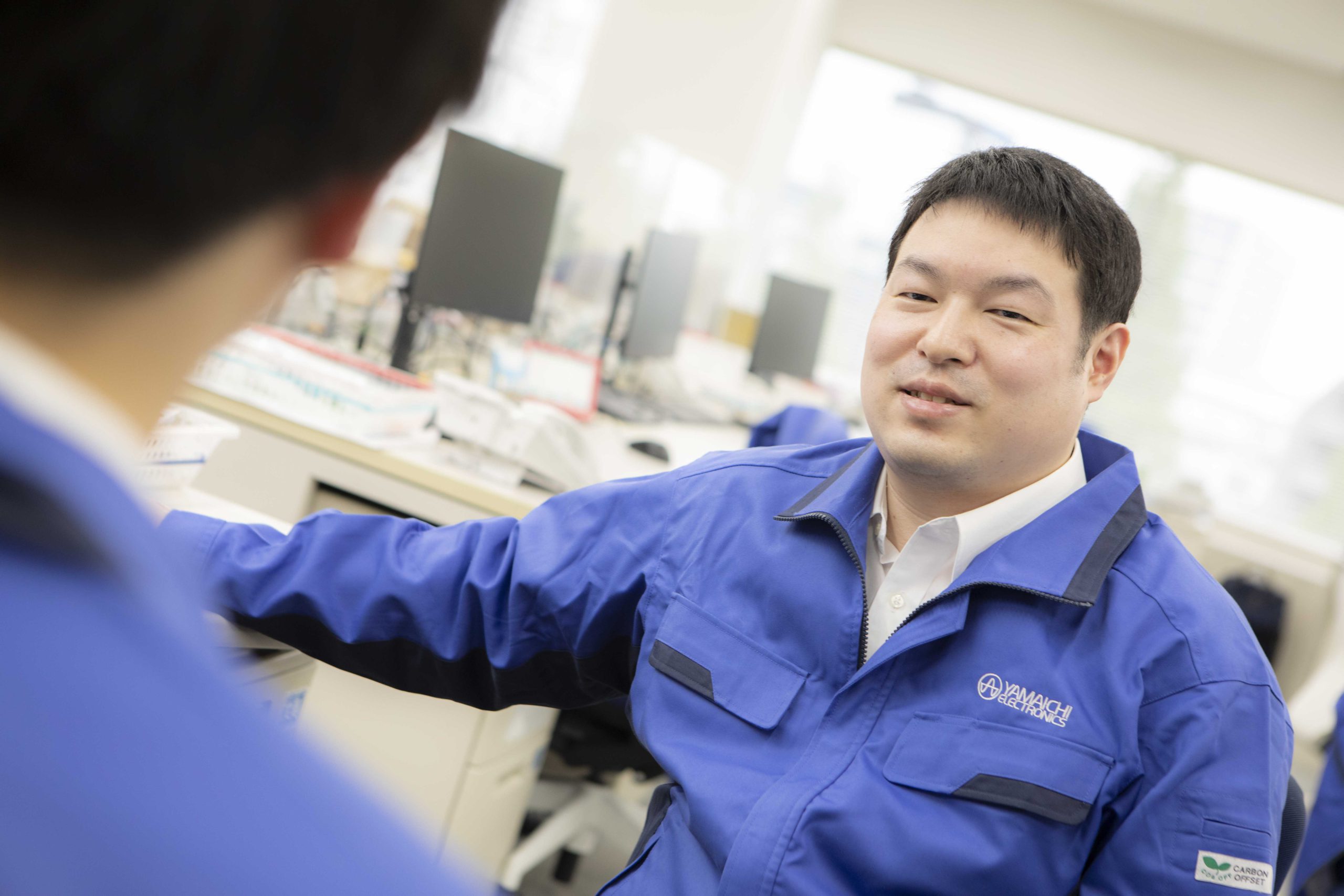 postscript
Mr. Ito values communication with subcontractors as well as within his section and between departments. In developing the first automotive camera module connector (4-core operating connector), he says that his team succeeded in commercializing the product after many prototypes and evaluations in cooperation with partner companies. This achievement was possible only because Mr. Ito took on the challenge from scratch and has grown with the support of those around him. Yamaichi Electronics' products are spreading worldwide, and the company culture of being able to ask questions easily and learn from each other is perhaps the secret behind its world-class products.
We look forward to Mr. Ito's future activities. We thank Mr. Ito for taking his time today.
Profile
Daisuke Ito
CN Development Engineering Section I, CN Engineering Department I
* The affiliation and contents of Mr. Ito are as of the time of the interview.