Communications networks, including smartphones and cloud computing, are now an indispensable part of our lives. These data communications are supported by network equipment in data centers and telecommunications base stations. Yamaichi Electronics' connectors are used to connect these devices at high speed.
In this interview, we asked Mr. Ikehata of CN Engineering Department II about the behind-the-scenes work of developing connectors that support high-speed data communications and the appeal of such work. He has been with the company for three years and is in charge of connector design and development.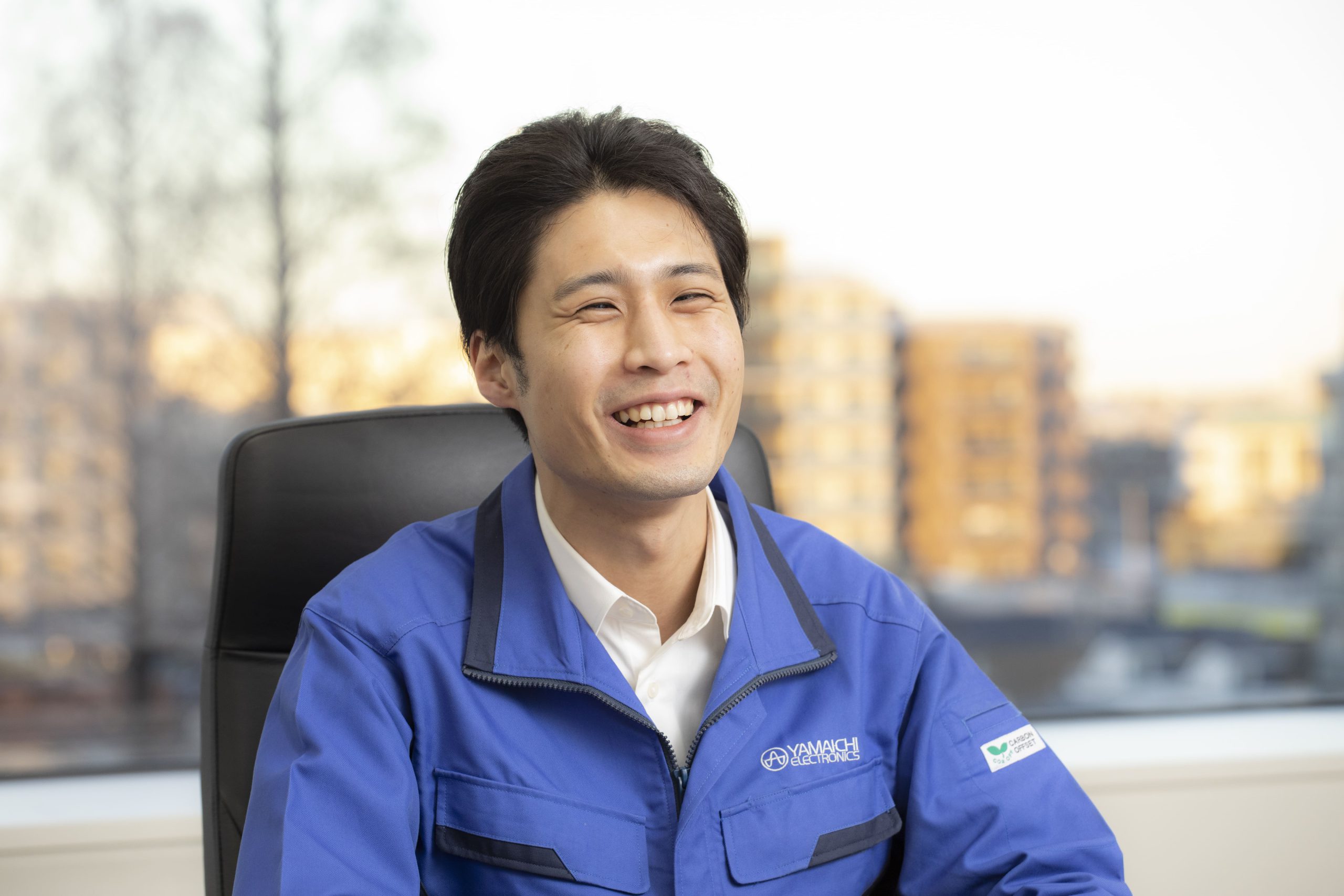 Yamaichi Electronics' connectors support communications networks
— Please tell us about your current work.
Ikehata: I am in charge of designing and developing connectors for network equipment. These connectors are mainly used in base stations and data centers, and we develop custom-made products to meet the needs and specifications of our customers.
— Where are the connectors you developed being used?
Ikehata: The Internet is indispensable to our daily lives. A vast amount of data communications is supported by countless base stations worldwide. Our connectors act as signal interfaces (for data exchange) between communications base stations, which organize communications on an area-by-area basis, and data centers located beyond the base stations.
— So, connectors are essential core components of the Internet.
Ikehata: Connectors play vital roles in all familiar objects and services that use the Internet though we don't usually see them. For example, the much-talked-about 5G (the fifth-generation mobile communications system) is characterized by high-speed communications with no delay, and connectors support the quality of the communications. Our connectors are also used as contact points of signals in submarine optical cables, which connect cities thousands of kilometers apart.
The secret of connectors that allow signals to pass clearly without distortion
— Please tell us about the features of Yamaichi Electronics' connectors.
Ikehata: Connectors are the gateway to data communications. Therefore, relaying clear signals is required. Our connectors have excellent transmission characteristics (ensuring ease of signal transmission) and can transmit clean signals with little distortion to network devices. They reduce the volume of reception data loss and allow signals to be transmitted more quickly and accurately.
— How did you devise the development process?
Ikehata: Connectors have not only electrical elements but also mechanical elements. Ideally, connectors should be connected in a straight line to ensure a clear signal path. However, this is not easy because connectors always have a mechanical contact mechanism. Therefore, we optimize the shape of the terminals and manufacture connectors with a precision of 1/100 mm to ensure their reliability. As a result, no matter how many times you insert or remove them, they will be positioned in the same place, allowing high-speed signals to pass through clearly without distortion.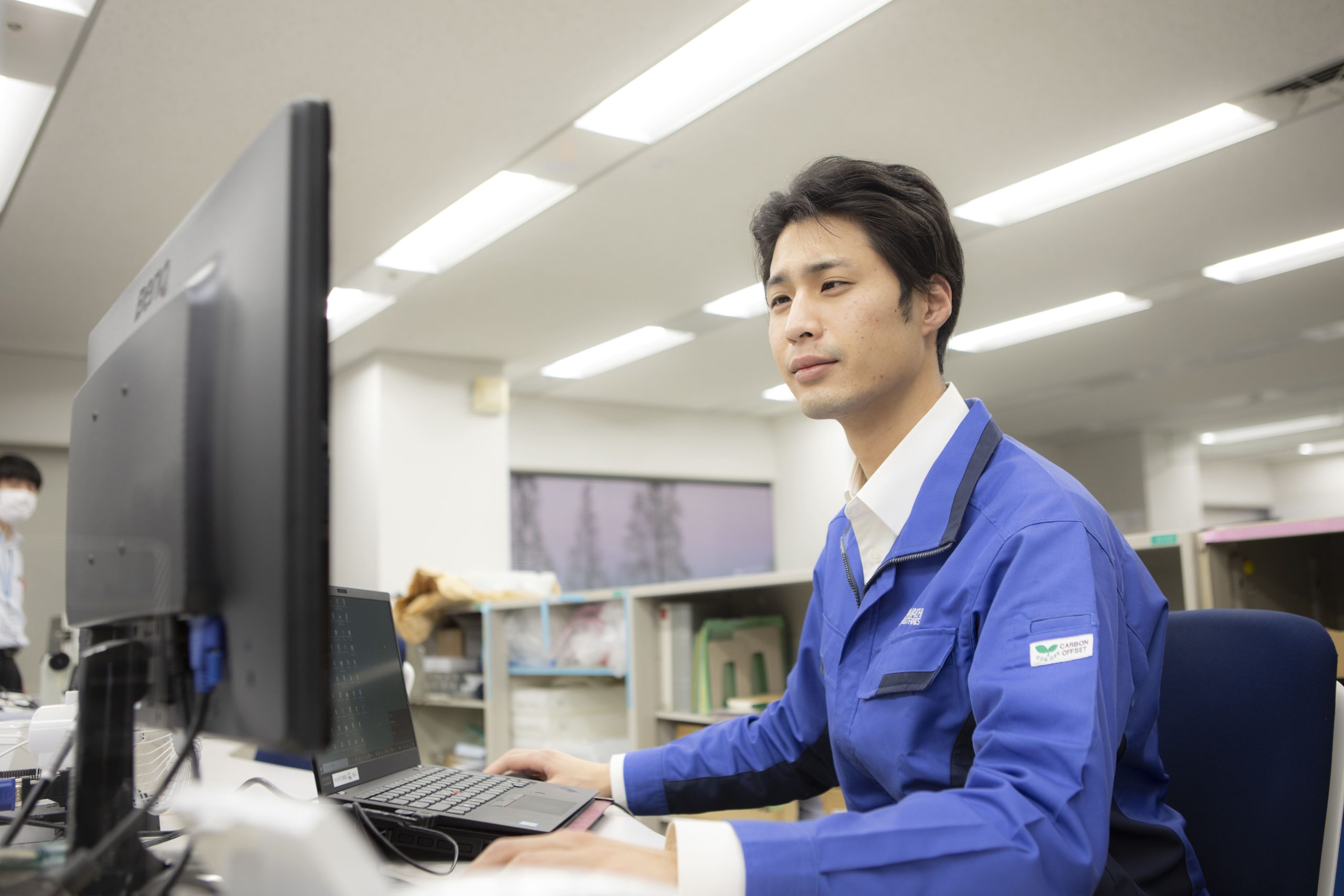 — They are more than just electronic components. They are precision components.
Ikehata: Yes. Connectors will not perform as expected if there is any dimensional discrepancy due to the expansion and contraction of plastic parts. Therefore, we consider the variability of actual products in our design at the development stage. It is important at the development stage to prevent product fluctuation, and it is also important to make them accurate even if they fluctuate.
Recently, to improve the reliability of our products, we have also been focusing on simulation in our development. We use simulations to verify the characteristics and performance of connectors based on CAD data and think of "How clean will the signal be if we make it this way?" and "How well do the connectors mate?" We also expect to reduce the cost of prototyping by accumulating data and know-how.
The current development will support the Internet of the future, looking ahead to 5G
— Please tell us about your future development goals.
Ikehata: Communications speeds are getting higher and higher with 3G, 4G, and 5G, and as a result, connector transmission technology is becoming more sophisticated. In the field of development, we are looking ahead to 5G and developing standards for 100 gigabits (Gb) per lane. It is an advanced technology that can pass data as big as 800 Gb per connector. The development of connectors cannot be achieved by our company alone. In parallel with the development of current products, we are working together with standards organizations and network equipment manufacturers to create new rules for the next standard.
— What are you looking forward to in the connector development process?
Ikehata: Connectors tend to be similar in shape, with many having only different numbers of cores. However, I always think about the reason for the shape before I design, and I'm happy when a design that I have created with my ideas performs as expected.
The next generation of connectors that we are developing will not be released to the world for another five or ten years. I have only been with the company for three years, so I haven't witnessed that moment yet, but I am looking forward to the fact that the products I developed support the communications network.
What is the appeal of connector development that will solve network issues with technology?
— Please tell us about the appeal of connector development from your point of view.
Ikehata: With the advent of a connected society that will include cloud computing and the IoT, the need for high-speed communications will increase even more. With today's data communications technology, if you want to send a terabyte of data from Tokyo to Osaka, it would be faster (depending on the communications conditions) to take the bullet train and transport the hard disk! The appeal of my work is to solve such problems with innovative technologies.
Amazingly, the technology that you are now exposed to works as it should without even being aware of it. It's not always glamorous to be behind the scenes supporting the norm. However, it is a very cool job. I would be happy if as many people as possible could understand the appeal of connectors.
Postscript
Through our overseas branches, Mr. Ikehata is currently involved in product development with overseas manufacturers in the U.S., Europe, China, and other countries. He is active globally, responding to various requests, such as a request to get a clear signal through in the limited space of a device and a request to customize the number of cores and the size.
We look forward to seeing Mr. Ikehata's future achievements. We thank Mr. Ikehata for taking his time today.
profile
Yutaro Ikehata
CN Development Engineering Section I, CN Engineering Department II
* The affiliation and contents of Mr. Ikehata are as of the time of the interview.